Volunteering
How YOU can help the festival
At the Albuquerque Folk Festival, Volunteers do everything!
The Festival is produced and presented by approximately 700 volunteers. About 120 of those produce the Festival and do such tasks as setup, workshops, ticket handling, sound, raffles, photography, logistics, etc. Committees do all the preparation and follow-up including planning, performances, fundraising, web pages, programs, recruiting, decorations, etc., etc., and we are always looking for help in these areas, and more activities as well.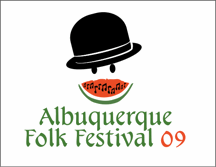 Work requirements vary, but generally you will be asked to work at least three hours (but we'll let you work more if you want!) at the Festival or be a committee member. A committee member is part of the pre-event planning team - a "Key" volunteer (manager). But remember that committees begin far in advance of the festival and require varied hours.
In return for volunteering, you get free entrance to the Festival, a Folk Festival T-Shirt, all concerts and activities, and an invitation to the Post Festival Party and Jam. If you're interested, please fill out the form below and we'll get in touch with you. If you have questions, please call Jim Beall (Volunteer coordinator) at (505) 821-1343 or e-mail . .