For Kids
What can kids do at the Folk Festival?
Back Again! Come early! Giant Puppets! Sunny Birkland and the Puppet Playhouse's giant puppets will be wandering the Festival grounds from 10:00 am to 12:00 pm. So don't be late!
Back Again! Play all kinds of musical instruments at Planet Music.
New This Year! The Music Guild of New Mexico will present Peter and the Wolf at the Storytelling Tent at 10:30 am. Come early and don't miss this chance to introduce your kids (and yourself) to the joys of orchestral music.
Dance! We'll dance at the Children's Tent but kids are also welcome to join us at the Dance workshops with two different kinds of dance to try every hour.
Play in a band! For kids of all ages. Must sign up by 3:30 pm at the Information Table. Get your assigned band and practice area at 4:15 pm. Our popular Band Scramble gives musicians and dancers of all ages and levels a chance to be a Main Stage Performer at the Albuquerque Folk Festival.
Sing and dance throughout the day at the Children's Tent, with a full day of activities just for kids! This year, we even have a magical experience.
There's tons of stuff for kids at the Folk Festival. Kids are always welcome at the music and dance workshops, there's a special venue for storytelling, plus there's a tent just for kids. A big thank you to Erika Gerety for organizing the Children's Tent and Kris Litchman for managing it at the Festival.
Children's Tent Schedule
Time
Session
Name
Description
10:30 AM
Silly Songs and Singing Games
Kris Litchman

We'll sing about frogs, fishermen, rabbits, and birds; we'll be singing elephants, rowboats, needle-threaders, and mice; we'll bunny-hop and hokey-pokey; we'll see what else comes along

11:30 AM
Hula Dance
Cindi Heffner

Hula is Hawaiian storytelling through dance. Children will learn basic hula foot and hand motions and a simple Hawaiian hula. haaheoohawaii.com

12:30 PM
Body Percussion and Clapping Games
Erik Erhardt

Explore a vocabulary of sounds, sets of polyrhythms, and multipart arrangements with body percussion for everyone, with bonus multi-player clapping games!

1:30 PM
Patricia Stephens
Patricia Stephens

Patty Stephens of Song Spiral shares a collection of original songs for children. No kid is too young and no kid is too old to participate. Song Spiral is about community singing, dance and play dedicated to families with wee ones. No child too young and no body too old. Using songs, games and rounds as well as improvisation in the language of the new born, toddlers and all the rest of us, we have a super fun laid-back musical adventure.

Patty Stephens is a jazz singer, music educator, member of the band The Brazil Project. Above all, she's a singer of songs with a marvelous son and lots of lovely brothers and sisters who all sing too.

2:30 PM
Magic with Howardini
Howard Higgins

Folk Magic From Around the World. Kids can experience, learn and enjoy participating in folk magic pieces from around the world. This hands-on workshop is an opportunity for the children to play together in a magical themed way, while experiencing and learning about magic from various cultures.

3:30 PM
Some Percussion Fun
Beth Crowder

Experiment with how to use found objects and play different parts of a homemade ensemble, have a sing along with our "instruments"

4:30 PM
Family Country Dance
Erik Erhardt with The Thrifters

Snakes, circles, bananas, and Sasha, Oh My! Join us for dances everyone can enjoy together.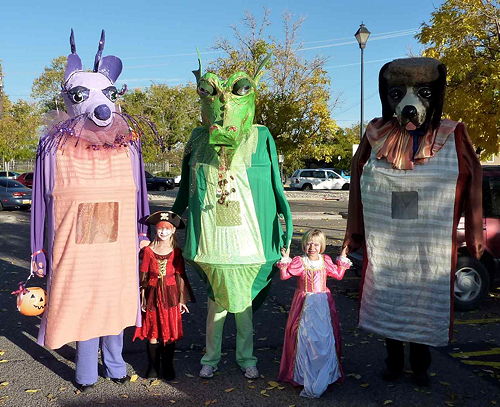 Giant Puppets!
Sunny Birklund and the Puppet Playhouse bring fun family entertainment for kids of all ages to the Folk Festival this year. Be on the lookout as their giant puppets make their way around the festival. You and your family and friends are invited to chat with the giant puppets and ask questions, shake hands, share hugs and take photos with silly poses. Let children who aren't quite ready be introduced from the distance and approach when they are confident. The puppets will be strolling the festival grounds from 10 am to 12 pm. Don't miss them!