A SIGN-UP STAGE for Family-appropriate Acoustic Folk Music, Dance, and Storytelling
The popular Sign-up Stage returns for 2016. This venue is a centrally-located opportunity for people (musical bands, individuals, dancers, singers, etc.) to sign up and perform for 30 minutes on our stage. On Saturday, new group/individual will perform every 45 minutes. This is a great opportunity for people to be seen and to share your musical talents with all festival-goers.
This year, we're adding a special Kids' Showcase hour from 12 pm to 1 pm. Those interested in participating should contact by June 1.
Thanks to Gary Roller, we have a delightful stage again this year.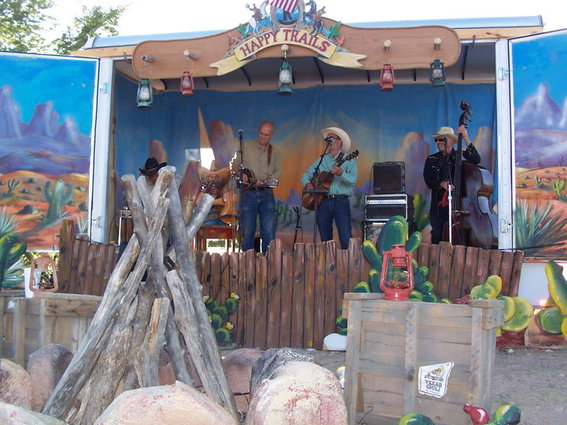 Specifics:
Sound. All performers will be able to use our professional sound system and operator.
Time Slots. There will be three time periods:

Saturday 10:00 am to 2:00 pm

10:00, 10:45, 11:30.
12-1 pm: Kids' Showcase

Saturday 2:00 - 6:00

2:00, 2:45, 3:30, 4:15, and 5:00

Saturday 6:00 - 8:15

Sign Ups: All performers will be first-come first-served and must begin signing in at one of three times: 10:00 am for the first time period (10:00-2:00), 1:00 pm for the second time period (2:00-6:00) and 5:00 pm for the last time period (6:00-8:15). Note that on Saturday morning, the first sign-ups will be at 10:00 am because the festival opens at that time. We reserve the right to block out a few slots for our Volunteers/Managers/Directors.
Each group/performer will play for 30 minutes, thus allowing 15 minutes between each group/performer.
There will be a manager/assistant in charge of the Sign-up Stage to ensure an orderly transition between performers and to resolve any questions about sign-up procedures and eligibility.
Each performance must comply with all the rules/requirements of the festival, including professionalism and no profanity, etc.
The festival reserves the right to terminate or eliminate performances which are not family appropriate and may not fall within our mission (i.e. folk traditions as seen at this festival, not rock etc).
For additional information, contact performers@abqfolkfest.org.