The 2008 Albuquerque Folk Festival is over!
Thanks to everyone who helped make it a success!
The managers, the volunteers, the performers, the workshop leaders, and all the attendees: we all came together to have a great festival day! We'll have pictures up soon, and we've put up a forum where you can share your festival experiences and give us feedback for next year. (It's a little plain right now, but we'll spruce it up later.)
If you want to continue to be a part of the folk community in Albuquerque, check our Resources page. Keep dancing, singing, and playing all year long!
We're starting to get photos and video!
Here are a couple of sets of photos and a video of the square dance workshop with music by the Virginia Creepers:
Enjoy reliving the memories of a great festival! And thanks again for making it such a great day!
To give you an idea of what's in store for 2009, here's a look back at our 2008 festival:
2008 Schedule
The Folk Festival ran from 10:00 AM to 11:00 PM on Saturday, June 21, 2008 at Expo NM (New Mexico State Fairgrounds) in Albuquerque.
If you want an overview of everything that happened at the 2008 festival, download a complete schedule as a PDF file. You can also get a copy of the program booklet that we provided at the festival here.
9:30 a.m. - Gates open
10:00 a.m. - Opening entertainment
10:00 a.m. - Start signing up for the band scramble and the kids fiddle contest
11:00 a.m. - All venues open
12:45 p.m. - Deadline for signing up for the fiddle contest for kids under 13
1:00 p.m. - Kid's Fiddle Contest for children under 13
1:45 p.m. - Deadline for signing up for the fiddle contest for kids 13-18
2:00 p.m. - Kid's Fiddle Contest for teens 13-17
4:00 p.m. - Final deadline for band scramble signup
4:45 p.m. - Band scramble assignments announced
5:00 p.m. - Some venues close for band scramble practice
6:00 p.m. - All venues close; raffle drawing and band scramble at Main Stage
6:50 p.m. - Hear the winners of the kids fiddle contest on Main Stage
7:20 p.m. - Last call to get your instruments from the instrument check room.
7:30 p.m. - Evening dances begin
11:00 p.m. - The party's over...until next year!
Gates will open one half hour early (9:30AM), so you'll have time to get to see the wonderful
Opening Entertainment
at 10 AM.
There will be music and dance Demonstrations starting at 10:00am and ending at 6pm. Open and hosted Jam Sessions will be held through out the day, 11:00 AM to 11:00 PM, for all levels of musicians and singers to get together and share a few tunes. We will all join together at the end of the afternoon for a Band Scramble from 6:00 to 7:00 PM. With a little break for folks to grab a bite to eat, at 7:30 PM we will have three concurrent dances to close out the evening with: a Barn Dance, with music by South by Southwest, a FolkMADS Contra Dance, with live music by the Albuquerque Megaband (introductory instruction for beginners at 7:30 PM), and an African dance, featuring African Sounds
Quick Links:
Main Stage:
| | |
| --- | --- |
| | Le Chat Lunatique |
Le Chat Lunatique plays a combination of Gypsy Swing, Western Swing and anything else they please! Filthy, Mangy Jazz is their forte! All of this madness came about due to John Sandlin and Muni Kulasinghe's mutual love for the great Hot Club of France, a gypsy swing group from 1940's Paris, which included the combined genius of Django Reinhardt and Stephane Grapelli. Jared Putnam's western swing background has fused itself into the mix and given them a fine repertoire of classic western swing tunes. In addition, Fernando Garavito's latin background has seeped into the rhythmic palette and given them a formidable groove. Le Chat Lunatique was voted "Best Jazz Act" in the Weekly Alibi's 2007 Best of Burque issue ("the best thing about this quartet's hot, Parisian-swing-style jazz is how immensely listenable and, well, fun it is"). They also won the 2007 New Mexico Talent Showcase in the Jazz/blues/gospel division. They have opened for Asleep at the Wheel, The Hot Club of San Francisco, and The Djangomatics. For more information: www.lechatlunatique.com
| | |
| --- | --- |
| | Los Primos |
Not exactly a mariachi band, even though it plays many mariachi standards, uses many mariachi instruments, and in 2006 won Albuquerque Magazine's Best of the City award in the mariachi band category, Los Primos plays a unique melding of old and new musical styles, combining Latin music that is traditional and nontraditional. For more information: www.theseranata.com
| | |
| --- | --- |
| | Syd Masters & The Swing Riders |
Syd Masters and his Swing Riders are a highly talented, thoroughly funny, good time cowboy band, combining classic favorites of Western Americana with colorful songwriting. Syd's compositions and arrangements include influences of jazz, blues, classical, big band swing, gospel, and folk. His performances include his unique brand of unspoiled guitar playing intermingled with occasional saxophone, concertina, clarinet, bass, piano, or percussion feature, and usually include some energetic yodeling.
Syd's timeless melody "Under New Mexico Skies" was given the honorable title of "Official Cowboy Song of the State of New Mexico" by Governor Bill Richardson. The New Mexico Music Industry has presented him with awards for "Country Song of the Year," "Best Vocal Performance," and "Most Humorous Song." His 2007 NMMI award for "Vocalist of the Year" made him the only person to ever win it twice. On the national scene both The Western Music Association and The Academy of Western Artists have awarded or nominated Syd numerous times for Best Male Vocalist, Best Western Swing Band, Best Album, Song, Songwriter, and Entertainer.
Syd last performed at the festival in 2006, and we're pleased to have him back this year, pulling from his seemingly endless repertoire to keep folks at the festival dancing, laughing, and singing along. For more information: www.sydmasters.com
| | |
| --- | --- |
| | Niños Flamencos |
Flamenco is the ancient form of artistic expression in the Spanish Gypsy culture. As an enduring oral tradition, the art and spirit of flamenco is passed from generation to generation. The song, dance and music of flamenco explore the full range of human emotion with an intense, vibrant quality that leaves audiences spellbound. Niños Flamencos is comprised of some of the most talented child students from the National Institute of Flamenco's National Conservatory of Flamenco Arts. For more information: conservatory.nationalinstituteofflamenco.org
| | |
| --- | --- |
| | Bryan Bowers |
Bryan Bowers is a major artist on the traditional music circuit. He has redefined the autoharp and is also well known as a singer-songwriter. Starting out as a street singer, Bryan's creativity and talent have won him induction into Frets Magazine's First Gallery of the Greats after five years of winning the stringed instrument, open category of the magazine's readers' poll. This distinction put Bowers along side other luminaries like Chet Atkins, David Grisman, Stephan Grappelli, Itzhak Perlman, Tony Rice, Rob Wasserman and Mark O'Connor, recognized for their personal accomplishments. In 1993, Bryan was inducted into the Autoharp Hall of Fame to stand only with Maybelle Carter, Kilby Snow, and Sara Carter.
Bryan has a dynamic outgoing personality and an uncanny ability to enchant a crowd in practically any situation. His towering six foot four inch frame can be wild and zany on stage while playing a song like `Dixie' and five minutes later he can have the same audience singing `Will The Circle Be Unbroken' in quiet reverence and delight.
For nearly three decades, Bryan Bowers has been to the autoharp what Earl Scruggs was to the five-string banjo. He presents instrumental virtuosity combined with warmth, eloquence, expression and professionalism. For more information: bryanbowers.com
| | |
| --- | --- |
| | The Wilders |
The Wilders grounds itself firmly in the early formative years of recorded country music, with classic country favorites heard in the early days of the Grand Ol' Opry radio show peppered with original country, bluegrass, hillbilly songs, and fiddle tunes. The band has burned up concerts and festivals across the nation and beyond, leaving delighted and exhausted crowds in their wake. Ike Sheldon (lead vocals, guitar), Betse Ellis (fiddle, vocals), Phil Wade (dobro, mandolin, banjo, vocals), and Nate Gawron (string bass, vocals) write and perform original songs, classic honky tonk, old time country, and fiddle tunes with engaging energy and spirit. The Wilders have gained critical acclaim and radio airplay throughout the United States and beyond. For more information: wilderscountry.com
Native American Folk: Stories in Song with Traditional Flute
Mike Lopez and Richard Hardy
Singer/songwriter, Mike Lopez, creates a wonderful way of telling stories through his original songs that reflect his life, family and surroundings. Mike was born and raised in Santa Barbara, California, and is part native American, Chumash of the Kalawashaq Village. Mike embraces the multicultural aspects of his deep roots. His multifaceted background is clearly reflected in his songwriting. Mike Lopez has an original sound from the West Coast, with a dash of red hot chili!
Mike is accompanied by Richard Hardy, from Fraser, Colorado. Richard, part Cherokee, plays the Lakota Native American flute, alto and bamboo flute, and penny whistle. The sweet golden tone that Richard achieves with his instruments is matched only by his melodic harmonies. Richard currently resides in Los Angeles where he performs with many bands and plays flute for many movie soundtracks as well as being featured on many Imax film scores.
Mike and Richard have been performing together for over ten years. For more information: Mike Lopez and Richard Hardy
Morning Entertainment: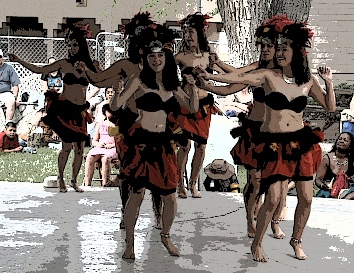 10 am to 11 am
Every year, there are more reasons to get to the festival early. This year, five venues are starting up at 10 a.m. with some special entertainment. Dancers can get loosened up for the day with some Tahitian movements; kids of all ages will enjoy the Limberjacks and the Chinese Martial Arts dancers, and there's plenty of music with JUBALation and the Welsh Choir. You also might want to spend extra time at the Main Gate, listening to Gregg Daigle and two of his students play eclectic fiddle tunes.
| Location | Name | Description |
| --- | --- | --- |
| Main Gate | Gregg Daigle | Django swing, bluegrass fiddle tunes , and classical arrangements with a healthy dose of improvisation by Gregg Daigle and two of his students, Cory Winder and Ed Cohen. |
| Stage 2 | JUBALation! | JUBALation is a small ensemble of young people that Jeanne Page originally pulled together from the Apple Mountain Harp Kids. They started out playing mostly Celtic music on harps and fiddles (plus guitar and bodhran) but have recently become interested in Bluegrass, adding banjo and dobro to the mix. There are five members in the present configuration, including three sisters who sing three-part harmony. They play at festivals and events for entertainment, but also play at hospitals, hospices and churches as a ministry. You'll enjoy their youthful energy and will undoubtedly be enjoying them for years to come. |
| Demo Stage | The Welsh Choir | The name of the Welsh Choir is Tan y Ddraig (Dragon's Breath). It is a small mixed voice choir, based in Albuquerque and open to the public, which sings folk songs and hymns in Cymraeg, the still living language of Wales. |
| Dance Tent | Tahitian Dance and Workshop | You'll need to get here early this year to enjoy Dance Tahiti in action. |
| Dance Building | Chinese Martial Arts | Dragons and more! |
| Li'l Folks Tent | Limberjacks! | The limberjack is an authentic Appalachian Mountain rhythm instrument made and played in America since colonial days. It is sometimes called a clogger, jigger or shuffling sam because of its dancing action. Kids of all ages will enjoy seeing this instrument/toy in action! |
Stage Two:
There's a lot of local talent here in Albuquerque and New Mexico, and we're offering Stage Two as an avenue where a few of these bands can play and gain some visibility. Come on out and meet the up and coming folk and traditional music bands on the local music scene. Thanks to Michael Coy for organizing Stage Two.
| Time | Name | Description |
| --- | --- | --- |
| 11:00 | Saoirse (Seer-shih) | Saoirse, Albuquerque's finest 'Celtic-Eclectic' band, plays a mix of traditional and new Scottish, Irish, and progressive music. Io Berg and Dan McDermott's complimentary vocals, along with a richly layered mix of flutes, fiddles, pipes, guitars, dulcimers, banjos, mandolins and Bodhrans, make Saoirse an enjoyable listening experience, and a great introduction the power and beauty of the Celtic musical tradition. Don't miss this Southwestern favorite! |
| 12:00 | Holy Water and Whiskey | A trio specializing in beautiful vocal harmonies, playing Traditional, Bluegrass and Gospel and some select "Whiskey" tunes |
| 1:00 | LadyFingers | The LadyFingers, an all-woman band from Albuquerque, present Celtic, Gypsy, and Old-World folk music, along with some fun singing. A delicious mix of acoustic instruments with Pat Arruffo (fiddle), Barb Belknap (mandolin), Erika Gerety (bass), and Gretchen Newman (guitar). You're in for a treat! |
| 2:00 | Buckarettes | Western swing and eclectic selections from the 40's and 50's, with outstanding cowgirl harmonies, superb musicianship and spontaneous sillyness. |
| 3:00 | Muddy River String Band | Muddy River String Band plays an eclectic mix of Americana. From folk to blues, bluegrass to old-time, we play what we like. Our unusual instrumentation includes the hammered dulcimer and the 'cello. Our music is bright and energetic, with the occasional moody tune |
| 4:00 | Duke City Swampcoolers | An eclectic mix of folk, bluegrass, and gospel music with a little jazz and swing thrown in for good measure |
| 5:00 | Sheppard and Carlson | Eric and Michael perform a blend of original and traditional acoustic folk music rooted in bluegrass, country blues, and old-time combined with fresh, modern sensibility. These multi-instrumentalists use guitar, dobro, bass, harmonica, and voice in varying combinations to create a rich, warm, and inviting musical texture. |
Demo Stage:
Our smaller "acoustic" demonstration stage offers a glimpse into some of the wonderful musical and cultural diversity that can be found right here in New Mexico! Thanks to John Brinduse for searching out these entertaining and educational performances.
| Time | Name | Description |
| --- | --- | --- |
| 10:00 | Welsh Choir | The name of the Welsh Choir is Tan y Ddraig (Dragon's Breath). It is a small mixed voice choir, based in Albuquerque and open to the public, which sings folk songs and hymns in Cymraeg, the still living language of Wales. |
| 11:00 | Mary Cox Banjo Demo | A self-described banjoholic, with thirteen banjos, Mary's been playing since she was 12 and is a past Florida banjo champion. |
| 12:00 | Irish Step Demo | Grab your lunch and come see these lovely young ladies demonstrate their skill in Irish Step Dance. They will teach you how. |
| 1:00 | Farfesha Belly Dance | Farfesha means "joyous laughter" and that's what you'll experience as you give belly dancing a try. |
| 2:00 | Timothy Hill Harmonic Singing | Harmonic singing, originating with Tuvan throat singing, is a way of singing and listening with acute attention to the overtone spectrum of the voice, producing a sound at once otherworldly and deeply human. Harmonic singing deepens and enhances the natural voice, giving singers a direct experience of the physical laws of sound, powerful insight into the nature of harmony and a glimpse at the roots of human language and song. |
| 3:00 | Muggies Uffda (Scandinavian) | This is our veteran Demo Stage Band, back for their 5th year in a row. This is Scandinavian dance music at its finest, from Norway, Sweden, Finland, Denmark, Iceland, and Minnesota! So come out and DANCE! |
| 4:00 | La Rondalla | Traditional Hispanic songs of New Mexico |
| 5:00 | Special Orchestra | These musicians ARE Special, and give their gift of music filled with heart-felt enthusiasm! This is their second appearance on the Demo Stage, it is a pleasure to share them again here with you. |
Songwriter showcase:
Our alternate stage for intimate performances by local singer/songwriters with their own story to tell. Special thanks to one of our best local songwriters, Dan Boling for bringing together this collection of colleagues for the songwriter's showcase.
| Time | Name | Description |
| --- | --- | --- |
| 11:00 | Bonnie Bluhm | Bonnie Bluhm has been playing guitar and singing and writing songs since her early days in Greenwich Village in New York in the 60's. She has lived in Albuquerque since 1973 and has been playing locally and regionally since then. Her latest album is called "Wounded". She was also the lead singer for Bonnie and the Boomerangs, a country-rock band in the 80's in Albuquerque. She can be reached at bonniebluhm@earthlink.net |
| 12:00 | Meredith Wilder with Sam Miller and David Schripsema | Meredith Wilder, Sam Miller, and David Schripsema have been playing together for almost half a year. The three of them collaborate to make the songs, each pitching in for melodies, lyrics, and feeling. This is their first year playing at the Albuquerque Folk Festival. |
| 1:00 | Jim Jones | Jim Jones is a native Texan who headed west to New Mexico in 1991. He has received multiple awards and recognition for his songwriting and recorded performances. His guitar-picking and unique vocal style have put him in demand as a performer at house concerts, cowboy gatherings and music festivals throughout the Southwest. |
| 2:00 | Abby Linhart | Abby Linhart is a singer/song writer who began her musical studies at five and her performance career at eleven. She is a mother and grandmother, a piano technician, and does volunteer work as a chaplain and a student of healing with sounds. She is a member of Steadfast Farm,Inc., a non-profit educational corporation with a 265 acre land base near Mountainair, NM, where she pursues her passion of alternative building. |
| 3:00 | Thom Parrott | "Thom" as in "tom-cat." "Parrott" like the bird. Thom Parrott has been writing songs and performing since 1961, first published in Broadside Magazine in 1964 and first recorded by Folkways Records following a Carnegie Hall concert in 1967. Thom has performed solo and with folk, rock, country, blues and jug bands on hundreds of gigs, many in nursing homes. Mr. Parrott was part of the Grammy nominated collection "Best Of Broadside" along with Bob Dylan, Pete Seeger, et al. |
| 4:00 | Lee Domann | Award-winning songwriter, storyteller, and modern-day troubadour Lee Domann's eclectic music embraces the roots of folk, rock, country, Celtic, and gospel. |
| 5:00 | Carol Spizman w/ Vakina Dentata | Carol M. Spizman was born in LA and sang all the time growing up, but she never really tried to be a musician until she moved to Albuquerque in '96 and got into an all-woman cover band called "Third Hand". She has been writing and performing her own songs for about seven years, the past two of which have been with her original band, "Vakina Dentata". |
Dance Program:
You can dance all day and into the night at this year's festival. Start the day by enjoying Chinese Martial Arts dancing and Tahitian dancing at 10:00 a.m. The dance workshops start at 11:00 a.m. and continue until 6 p.m.
Of course, you can always dance to the live music at various venues around the festival. New this year: We'll have a dance floor at the Main Stage! You'll want to get to the festival early for swing dancing to Le Chat Lunatique at 11:00 a.m., and be sure to head back to the main stage at 4:00 p.m. for The Wilders and some honky-tonkin' old-time music.
If you feel like dance jammin', you can join in the Band/Dance Scramble, with planning, rehearsal, and name creation from 5-6 p.m. and performance from 6-7 p.m.
Take a very quick dinner break and head back for more dancing from 7:30 until 11 p.m. With three evening dances, you're sure to find something you'll enjoy!
Dance Workshops
Here's our 2008 dance workshop schedule, with two dance venues plus a little extra. Here's your chance to try all kinds of different dancing styles. Thanks to Bob Baker for organizing the dance workshops.
Time
Dance Tent
Dance Building
11:00
Argentine Tango
You too can be smooth and saucy – tango style!
Lead by Jenny De Bouzek and The Tango Club of Albuquerque
Scandinavian
Learn wonderful and stylish dances from Sweden and Norway.
Lead by Craig Olson
12:00
International Folk
Taste the variety of music and dance from around the world.
With Charlene Baker and Carol McGinn
Clogging
Foot stomping at its best. Found around the world but the state dance of Kentucky and North Carolina.
Lead by Ed Hooten
12:00
Demo Stage (Indian Arts Building): Irish Step Demonstration and Workshop
Grab your lunch and come see these lovely young ladies demonstrate their skill. They will teach you how!
Lead by Bev Coleman
1:00
Enchantment Scottish Country
Learn and enjoy the dances of Scotland. Kilts not required!
Lead by Kenneth Armstrong
Balkan
Suddenly you are in the Balkans with many dance styles. Music by Teshka Vremena Band.
Lead by Patsy Gregory
1:00
Demo Stage (Indian Arts Building): Farfesha Belly Dance
You can do it too!
Lead by Michelle Morrison
2:00
Irish Ceili
"kay-lee": An Irish "hoedown" with bridges, swings, and turns just for you.
Lead by Norita Callahan
Appalachian
Featuring the Kentucky Running Set and others.
Lead by Wendy Graham with music by Gary Papenhagen and friends.
3:00
Hawaiian Hula
Hula, the living art and soul of Hawaii. Experience the grace and beauty of the Hula.
Lead by Cindi Heffner
Square Dance
Learn a truly American folk dance style. Do-si-do and away you go!
Lead by Kris Jensen with music by the Virginia Creepers.
4:00
Klezmer
Traditional Eastern European Jewish Dancing with Rikud.
With Nahalot Shalom Community Band
Contra Dance
First timers welcome: Wendy will talk you through the dances so you can't miss.
Lead by Wendy Graham and Hey!
5:00
Country Western Swing
Learn easy basic steps that you can use at the Barn dance tonight with SXSW. No dance experience necessary.
Lead by Susan and Gary Kellogg
African Dance
A rhythm based, energetic dance style. This will be followed by an African drum workshop at 6 pm.
Lead by Laryea Addy
Evening dancing for everybody
Variety Barn Dance "under the stars" in the Dance Tent, 7:30-11PM, sponsored in part by Albuquerque Swing & Country Dance Club. Music by local favorites Michael Hearne and South by Southwest.
and
NM FolkMADS Contra Dance in the Dance Building
. Music by the Albuquerque Megaband! Beginners instruction at 7:30 PM, Dance from 8-11 PM.
and
African Dance
with
African Sounds
.
Jam With The Band!
There's a lot of local talent here in Albuquerque and New Mexico, and we're offering Jam with the Band as an avenue where musicians can play or sing along with a few of our great bands. It's ok just to listen too. Come on out and meet the up-and-coming folk and traditional music bands on the local music scene. Don't forget to bring your instruments.
| Time | Name | Description |
| --- | --- | --- |
| 11:00 | HEY! | |
| 12:00 | Juniper Hill | |
| 1:00 | Blarneystone | |
| 2:00 | Adobe Brothers | |
| 3:00 | Young Edward | Young Edward is a bluegrass / alternative country band that plays a down home mix of haunting original tunes and traditional covers. Armed with a guitar, banjo, and upright bass the power trio has been pleasing crowds young and old for the past seven years. |
| 4:00 | Bleakerstreet Boys | |
Band Scramble:
We're going to close the Main Stage performances with a Band Scramble at 6 PM which will give musicians and dancers of all levels a chance to be a Main Stage Performer at the Albuquerque Folk Festival. The deal is you put your name and the instrument you play (or dance style) in hat, and we'll put together some randomly organized bands (with dance accompanists). You'll have about 45 minutes to put together two numbers and a band name (that's the hard part), and learn the tunes and be ready to perform them on the main stage. This has been a favorite event at the Southwest pickers Santa Fe Traditional and Bluegrass festival, and we've enjoyed it so much, we stole the idea and want to bring it to Albuquerque!
Hosted Jams:
At the hosted jam tents, there's a new host every hour. Hosts are mostly there to encourage musicians to pick a song or start a song and to make sure that everyone gets an opportunity to participate. In addition, hosts bring their own unique flare to the jam. Thanks to Blythe Camenson for arranging the Hosted Jams.
Hosted Jam 1
Here, the focus is mainly on Bluegrass and Celtic music.
| Time | Session | Name |
| --- | --- | --- |
| 11:00 | Gospel Harmony | Bruce & Maggie Washburne |
| 12:00 | Bluegrass/Old Time | Tony Brozena |
| 1:00 | Bluegrass | Steve Morgan |
| 2:00 | Irish Session | John Conoboy |
| 3:00 | Folk/Bluegrass/Country | Carl Allen & Sandra Vieth |
| 4:00 | Popular Mixed/Bluegrass | Morys "Peaches" Hines |
Hosted Jam 2
C'mon over to Hosted Jam 2 for more pop/swing oriented jamming.
| Time | Session | Name |
| --- | --- | --- |
| 11:00 | Folk/Popular | Bruce Davis |
| 12:00 | Folk/Rock/Pop | Guy& Lisa Dicharry |
| 1:00 | Folk/Rock | Katie Gill |
| 2:00 | Popular/Anything Goes | Bill Balassi |
| 3:00 | Mom's Swing | Tom Hunter |
| 4:00 | Folk/Pop/Singalong | Dan Matthews |
Music Workshops:
All of these workshops are designed for festival goers' participation. Even if you don't have an instrument to play, workshop presenters and/or other participants can often loan you one or share theirs to give you chance for a little hands on. Don't be shy! Come join the fun! And if you do have an instrument at home, don't hesitate to bring it along. We have an instrument check room available from the festival start until 11:00 PM so you don't have to lug that instrument around all day if you don't want to.
One of the great things about the folk festival is that everybody participates. Main stage performers are more than willing to share their expertise with everyone at the festival. This year, you'll find a gypsy fiddle workshop by Muni Kulasinghe of Le Chat Lunatique, an autoharp workshop with Bryan Bowers, and a style workshop with The Wilders.
Workshops labeled with a (B) are especially targeted to beginners. If a workshop is labeled with an (I), it's for intermediate players.
Workshop 1
| Time | Session | Name | Description |
| --- | --- | --- | --- |
| 11:00 | Bluegrass vs. Old-Time | Wayne Shrubsall and Bruce Thomson | Because the instrumentation is the same, many folks are confused about the distinction between bluegrass music and old timey or traditional music. Though there are some dramatic differences, in fact there're a lot of similarities too and many great musicians use ideas from both genres. This workshop will highlight the differences and the similarities by teaching tunes in both styles. |
| 12:00 | Apple Mountain Strings & Things Folk Music Club | | Albuquerque-based acoustic instrument club where players at all skill levels enjoy well-loved folk tunes with friends. Come and just listen, or bring your instrument and play along. |
| 1:00 | Folk Harp | Stephanie Sjaardema | Stephanie Sjaardema will teach the basics of Folk Harp. Harps will be provided, or bring your own. We'll start with an introduction to the instrument, followed by basic chords, simple melodies, and more advanced techniques as time allows. |
| 2:00 | Ukulele (B) | Michael Veseart | If you were stranded on a desert island, what instrument would you want to have? Instructor Michael Veseart will show you the basics of this fun and portable instrument. Aloha shirts are optional. |
| 3:00 | Gypsy Fiddle (I) | Muni Kulasinghe | Come learn basic gypsy swing fiddle comping with Muni Kulasinghe of Le Chat Lunatique. |
| 4:00 | Bluegrass Flatpick Guitar (I) | Gregg Daigle | Overview of the roles of flatpick guitar (rhythm and lead) in bluegrass music. |
| 5:00 | Mixing Originals with Older Styles | The Wilders | Come see how The Wilders, a hillbilly stringband from Kansas City, mixes original tunes with older styles. |
Workshop 2
| Time | Session | Name | Description |
| --- | --- | --- | --- |
| 11:00 | Mandolin (B) | Laurie Phillips | Bring your ax and learn which end is right (and don't be left). We'll figure out a tune or two and point to a few things to work on for next year's folk festival. You don't need to read music ... but we won't hold it against you if you do! Seriously, there'll be a few basic moves and tactics, and you WILL be able to play when it's done (well, OK: we'll point you in the right direction). And, as always: a handout to take home! |
| 12:00 | Bodhran (Irish Drum) (B) | Shane Page | Stir your Irish blood by learning the basics of playing this wonderful drum. This is a very hands on workshop for participants. |
| 1:00 | How to get in great tune! (Autoharp) | Bryan Bowers | During the first half of this workshop, autoharp master Bryan Bowers will show you three different levels of getting an autoharp into great tune. In the second half, you'll play a few simple songs, and use what you've learned to make sure the melodies play beautifully. |
| 2:00 | Harmonica (B) | Dan Garcia | During this workshop you will learn how to play a single harmonica in multiple keys. The emphasis this year will be on semi-rare third and fourth position playing. |
| 3:00 | Klezmer Music | Beth Cohen | Learn a Klezmer (East European Jewish folkdance music) tune by ear with violinist and Klezmer band director Beth Cohen. All levels and instruments welcome - beginners will learn accompaniment patterns. Charts provided at end of workshop. |
| 4:00 | Bones (B) | David Wilson | Learn how to play this simple but versatile rhythm instrument. Bones can be played with almost any genre of folk music and fit nicely in your back pocket. A limited supply of bones will be available for use during the workshop. Otherwise, bring your own or buy yourself a pair for an affordable price from our vendors. |
Workshop 3
| Time | Session | Name | Description |
| --- | --- | --- | --- |
| 11:00 | Irish Fiddle (B) | Gary Papenhagen | Entry level exposure to Irish fiddling. Gary will cover basic ornaments, bowing, and a few basic rhythms, and will teach a jig, Roaring Barmaid. |
| 12:00 | Fingerpicking Guitar (B) | Pat Neff | Beginning fingerstyle guitar--broken chords and other topics. Bring your guitar and learn fingerstyle arpeggio patterns to enhance your playing. |
| 1:00 | Hammered Dulcimer (B) | Scott Reeder | What is it, why do you hit it with sticks, and don't all those strings make you crazy? Come and enjoy this unique instrument, whether you're a beginning player looking for helpful tips, or just curious. |
| 2:00 | Tunes from the Southwest (Mandolin) (I) | Scott Mathis | This workshop will be a repertory session featuring social music from the Tohono O'Odham reservation (Elliot Johnson), dance tunes from Northern NM (Cleofus Ortiz) and otherMexican influenced tunes which are popular throughout the SW. Linda Askew and Scott Mathis will be playing guitar and mandolin, but all instruments are welcome(especially banjos and accordions). |
| 3:00 | DADGAD Celtic and Blues Guitar (I) | Ron McFarland | Bring along your guitar for this introduction to the concepts of DADGAD. We'll learn some theory and a couple of tunes. |
| 4:00 | North American Fiddle (I) | Bruce Thomson | Because we're a melting pot, North America has more styles of traditional fiddle music than any other continent; styles that include the rustic crooked music of the desert southwest and Mexico, the rhythmic old timey dance music of the Appalachians, the smooth intricate swing of Texas, and the lyric and bouncy music of New England. This workshop explore the differences in styles by teaching tunes in some of these different styles. |
Workshop 4
| Time | Session | Name | Description |
| --- | --- | --- | --- |
| 11:00 | Bluegrass Banjo (B) | Bill Howden | Here's where the fun begins! Banjo setup, right and left hand techniques. Rhythm. Tablature. Q & A. Also why play banjo and how to keep going. Love your banjo. |
| 12:00 | Tin Whistle (B) | Andy Moss | Workshop for whistle beginners. In one hour, play a few tunes. Have lots of fun. |
| 1:00 | Mountain Dulcimer (B) | Irma Reeder | Spend some time exploring this versatile instrument! It's easy and fun to get started. We'll learn some basics, then enjoy playing songs. All levels welcome to come and play along! Some instruments provided. |
| 2:00 | Celtic Mountain Dulcimer (I) | Jonathan Dowell | An overview of Celtic music for the mountain dulcimer.You'll learn a Celtic aire, a Celtic jig, and a Celtic reel. For intermediate players, and for beginners ready to move up. By Southern Regional Mountain Dulcimer Champion Jonathan Dowell. |
| 3:00 | Uppicking & Downpicking Banjo (I) | Wayne Shrubsall | Bring your banjo and learn how to play a tune (or even two!) in two traditional Appalachian styles. You can just listen, if you like. |
| 4:00 | Jaw Harp (B) | Ken Dean | New Mexico Symphony musician Ken Dean will go over basic techniques for this ancient mouth resonated instrument. Feel free to bring your own instruments.There will be a very limited number of bamboo instruments available. |
Singing at the Festival:
There are seven singing workshops this year, ranging from barbershop to throat singing. And of course, you and your voice are welcome at all the jam sessions - no experience necessary. If you want to take your voice on stage, sign up for theBand Scramble!
| Time | Session | Name | Description |
| --- | --- | --- | --- |
| 11:00 | Women's Barbershop | Enchanted Mesa | Women's barbershop, four part acappella singing. An original American artform presented by members of the local Sweet Adelines chapter, Enchanted Mesa Show Chorus. Come join us and experience four part harmony! |
| 12:00 | Folksong Circle | Albuquerque Folk Song Circle | Laurie McPherson leads a group through a variety of folk songs. Everyone sings! |
| 1:00 | Harmonic (Throat) Singing | Timothy Hill | Harmonic singing, a way of singing and engaging the overtone spectrum of the voice, produces an eerie and fascinating sound, deepening and enhancing the natural voice. |
| 2:00 | Shape Note Singing | Shape Note Singers of Albuquerque New Mexico | The Shape note Singers of Albuquerque New Mexico formed about 1991. It is a participatory group rather than a performing one and it is open to everyone. The style of the hymns and anthems we sing date back to the colonial period of the United States, and they are sung unaccompanied in four part harmony. The shapes of the notes help the singer to learn the relative pitches within the song. Typically, there is little in the way of dynamics, so the songs are sung loudly and often with considerable exuberance. With practice, even a beginner can begin to read music and sing along with us. |
| 3:00 | Country/Gospel Singing | Wing and a Prayer | Come sing songs from generations past with Wing & a Prayer, a band that combines lively vocals with a multitude of acoustic instruments from the familiar to the unusual. |
| 4:00 | "Instruments of Joy" | Instruments of Joy | We are a ten-member a capella singing group, Instruments of Joy. Our material generally ranges from American folk song back through the centuries to old English ceremonial songs and madrigals. We will be at the Workshop 5 tent at 4:00 sharing May songs, from rowdy processionals for bringing in a maypole to songs celebrating the season when "each lad takes his lass all on the green grass." No one leaves without helping to "sing cucu" -- a round that was old in Chaucer's time! A group of friends who love to sing the old songs, we named our ensemble after a grand old northern English hymn, "Sound, Sound Your Instruments of Joy." We treasure the sense of connection to people just like us who made the same music hundreds of years ago, with the same sense of elation over the return of spring, the same longing over unrequited love, the same awe at the mysteries of existence. And the music they bequeathed us is so glorious! |
| 5:00 | Celtic Singing | Celtic Singers of New Mexico | The Celtic Singers of New Mexico is a group dedicated to the study, preservation, and enjoyment of traditional-style song from the Celtic lands, including Scotland, Ireland, Wales, and others. Many of the songs we sing are in Scots Gaelic; others are in Broad Scots dialect with occasional forays into Welsh, Irish, and English. We will be teaching a small selection of songs, each a representation of various traditions, including tweed-walking (work songs), mouth music, and others. All are welcome to join us! |
Storytelling:
This year our storytelling will take place in the center of the action, where the Demo Stage was last year, so no one will miss these great local storytellers.
| Time | Name | Description |
| --- | --- | --- |
| 11:00 | Clyde Archibeque | Overs at the Ballpark |
| 12:00 | Dianne Rossbach | Believe it or not! |
| 1:00 | Ralph Estes | Billy and Me |
| 2:00 | Paulette Atencio | Northern NM |
| 3:00 | Marilyn Adams | Susan B. Anthony |
| 4:00 | Steven Pla | International Tales |
| 5:00 | Bryan Bowers | How Stories Work |
Li'l Folks Program:
Our goal is to get Albuquerque Singing, Playing and Dancing. What better place to start than with our kids? While all of our workshops are open to participants of all ages, we have set aside a portion of our schedule specifically tailored to getting kids and families started enjoying home made music. This year, we've added a new event to the Li'l Folks program: a Kids' Fiddle Contest. You won't want to miss this!
| Time | Session | Name |
| --- | --- | --- |
| 10:00 | Limberjacks! | |
| 11:00 | Kids Americana | Apple Mountain Harp Kids |
| 12:00 | Introduction to the Ukulele | Michael Veseart |
| 1:00 | Fiddle Contest (through 12) | Linda Vik |
| 2:00 | Fiddle Contest (13-17) | Linda Vik |
| 3:00 | Frog Fiddlers | Linda Vik |
| 4:00 | Jam with the Band for Kids | JUBALation |
| 5:00 | Enchanted Fiddlers | Jana Haas |
Arts and Crafts:
Come visit local crafters as they work on their projects or bring your own project and relax on the Front Porch while listening to music. Be sure to see the One Woman Quilt Show featuring the works of Barbara Gary of Albuquerque.